Atlantic Behavioral Response Study kicks off 2021 field season
Posted on July 13, 2021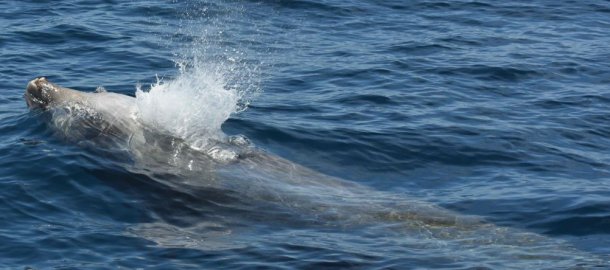 Adult male Cuvier's beaked whale surfacing off Cape Hatteras. Note the tusks at the tip of the lower jaw. Photo by Dr. Will Cioffi.
The Atlantic Behavioral Response Study kicked off the 2021 field season last week by deploying the first round of satellite-linked telemetry tags on Cuvier's beaked whales (Ziphius cavirostris) prior to an anticipated controlled exposure experiment (CEE) later this month.  The tags collect information on the movement and diving behavior of the whales and transmit data summaries to ARGOS receivers placed on NOAA weather satellites. Those observations build a record of the baseline behavior of each whale before the experiment, including their horizontal movements and diving records.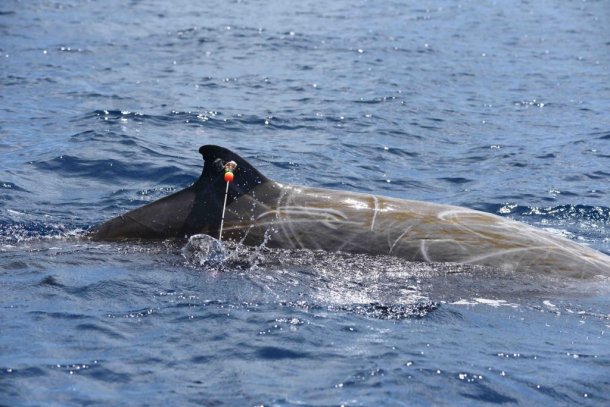 Deploying a satellite-linked dive recorder on a Cuvier's beaked whale off Cape Hatteras. Photo by Dr. Will Cioffi.
The field team successfully deployed 10 tags over the course of 3 days off Cape Hatteras, adding to one of the most extensive records of the behavior of this species anywhere in the world. Just prior to the CEE the team will attempt to deploy one or more Digital Acoustic Recording Tags (DTAG) on "focal" individuals. The DTAGs record very detailed data on animal movements in 3-dimensions as well as high resolution audio. Data is stored on the tag and once recovered is used to recreate the fine scale movements of the individuals.  

Check out more details on the project blog and stay tuned for updates as we continue working through the summer.