Bonus tagging in JAX
Posted on June 15, 2016
With Tropical Depression Bonnie moving up the North Carolina coast, The Duke crew loaded up the truck, trailered the R/V Barber down to Jacksonville, Florida for some surveys, and kidnapped Daniel Webster from Cascadia Research Collective while they were at it.  Duke routinely conducts photo-ID and biopsy surveys in the USWTR study area, but had not yet deployed satellite tags in the JAX OPAREA off the northeastern coast of Florida. Despite several years of trying to coordinate a tagging project there, weather and logistics always seemed to thwart their best efforts.  So although we don't currently have a formal tagging project in place, this happened to be a perfect storm opportunity.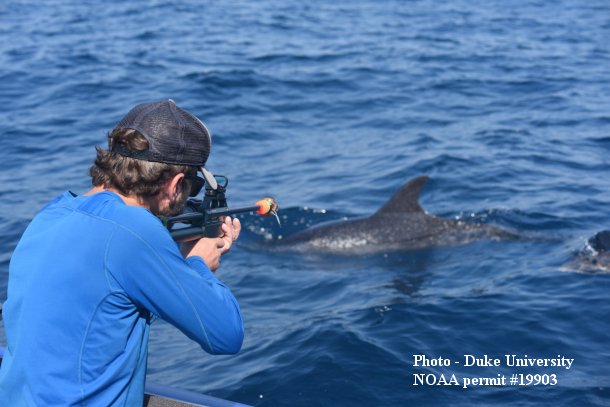 Continuing the focus on deep diving species, they headed to the far eastern edge of the survey area, almost 100 nautical miles offshore (a very long day trip). The water is deeper (200-800 m) there, but not nearly as deep as at the Cape Hatteras survey area, where depths easily top 2,000 m.  On the long trek offshore, they encountered a group of Atlantic spotted dolphins (Stenella frontalis) and successfully deployed a satellite tag, the first on this species for this project.  Atlantic spotted dolphins are typically found in shallow, shelf waters (<200m) and we expect this individual to stay within these waters in the JAX study area.
The crew was rewarded for the long offshore trips, with sightings of short-finned pilot whales, a species only seen twice during vessel surveys since the project began in JAX in 2009, and successfully deployed four tags on them.  It will be fascinating to see where these animals travel.  Interestingly, none of the 40 short-finned pilot whales  tagged off Cape Hatteras have traveled further south than Onslow Bay, NC. Additionally, last year, several photo-identification matches were made between pilot whales at this JAX site and a catalog maintained by the Bahamas Marine Mammal Research Organization, run by Diane Claridge, so it's possible these animals are part of a completely separate population than the NC animals.  Stay tuned to see if these tagged animals head to the islands!