Panama City Dolphin Survey Complete!
Posted on August 12, 2015
The first survey season for the Panama City bottlenose dolphin photo-ID project has successfully been completed.  This past July, a team of scientists from the NOAA National Centers for Coastal Ocean Science (Charleston SC), the NMFS Southeast Fisheries Science Center (Pascagoula MS), and the NOAA Fisheries Southeast Regional Office (St. Petersburg FL) spent 16 days in Panama City, Florida surveying the inland and coastal waters for bottlenose dolphins.  The goal of this project was to conduct photographic-identification (photo-id) surveys to determine seasonal (summer) abundance, habitat use, and distribution patterns of bottlenose dolphins in St. Andrew Bay (SAB) and adjacent coastal waters surrounding the Naval Surface Warfare Center, Panama City Division (NSWC PCD).  The Navy is interested in learning where dolphins are most commonly found in St. Andrew Bay and at what times of year to understand potential interactions with training and testing activities that typically occur there.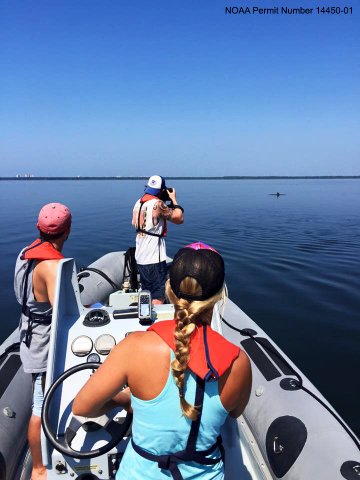 Photo-identification survey team in West Bay, Florida (Photo by C. Sinclair)
Survey track lines July 2015 
The team dodged windy conditions and afternoon thunderstorms to cover a total of 1804 km of survey lines, totaling 109 hours of effort.  In total, the team encountered 118 groups of dolphins, which included 338 dolphins, 43 calves, and 1 neonate.  Dolphins were sighted in all regions of the survey area, although few animals were seen along the coast.  Six of the dolphins photographed were provisioned animals, which have learned to beg for handouts from people that participate in illegal feeding.  Feeding dolphins puts people and animals at risk for injury, and can alter the animals' behavior in other ways that affect their health and well-being.  Additionally, the team collected biopsy samples from 32 individuals in the inland waters and 2 individuals from the coastal transect.  These biopsy samples will be saved for future analyses that can help determine stock and community structure, contaminant load, stress hormone levels and reproductive status, and provide insight into foraging ecology.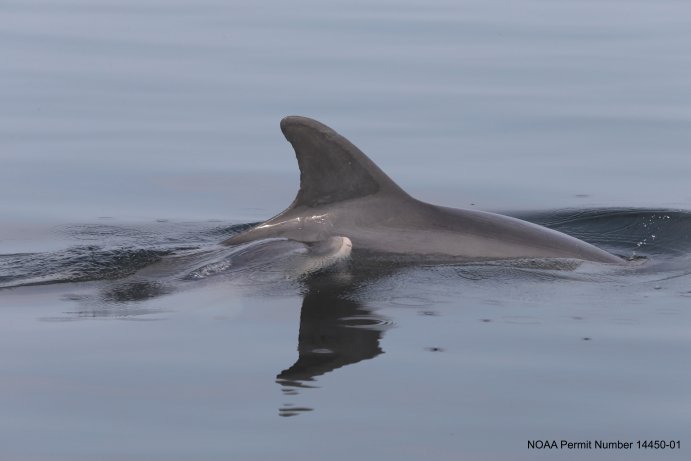 Bottlenose dolphin mom and calf pair in St. Andrew Bay, Florida (Photo by C. Sinclair)
The team plans to return to Panama City in the fall to conduct a second survey period.   These data will help to determine what dolphins are residents to the area, and which individuals may be transients from other stocks, such as the coastal stock, or resident individuals from a nearby bay, that use the inshore habitat only at certain times of year.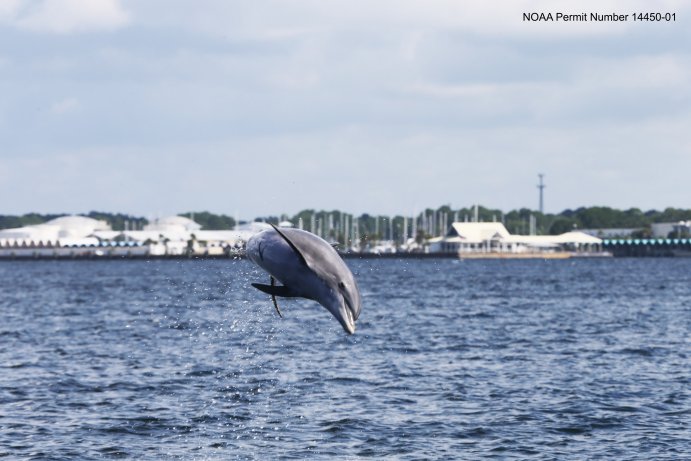 Bottlenose dolphin leaping with remora off Panama City Marina, Florida (Photo by C. Sinclair)
This work is funded by the Naval Sea Systems Command, Environmental Management and Policy Office (04RE) and conducted under NOAA permit number 14450-01.