Tagging Atlantic Humpbacks
Posted on January 8, 2016
Researchers from HDR photograph a pair of humpback whales off the coast of Virginia Beach with the Chesapeake bay Bridge-Tunnel in the background. Photo credit - (c) Brian Lockwood
Year 2 of the Mid-Atlantic humpback whale monitoring project started off strong with numerous humpback sightings off Virginia Beach during the month of December. This year's efforts also include a satellite tagging component. So far six location-only Smart Position and Temperature (SPOT-6) Argos-linked satellite tags have been deployed on humpback whales in the coastal waters off Virginia Beach (MMPA/ESA permits 14450 and 16239). These small tags attach near the base of the dorsal fin by two sterilized darts and are designed to eventually fall off the animal after a period of several weeks. These tags will provide critical insight on where endangered humpback whales utilize the waters in and around Virginia Beach's high-traffic shipping lanes.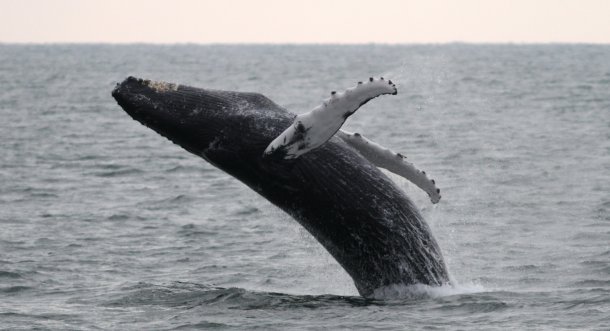 Humpback whale breaching off the coast of Virginia Beach.
On December 20th the HDR research team located a pair of humpback whales two miles off Cape Henry. The pair of sub-adult whales was travelling together and each whale was determined to be a good candidate for tagging. After collecting identification photos of both individuals, a satellite tag was deployed on one of the individuals and a small biopsy sample was collected to determine gender and possibly summer feeding ground origin. The whales were added to our humpback whale photo-ID catalog and were also shared with other local catalogs maintained by Rudee Flipper Tours and the Virginia Aquarium. We learned that the tagged whale had also been seen off Virginia Beach in January 2013 thanks to sighting information from Rudee Flipper Tours and the Virginia Aquarium. At the end of the field season, photos of these, and other whales, will also be shared with regional catalogs along the east coast in the hopes of learning as much as possible about each individual whale.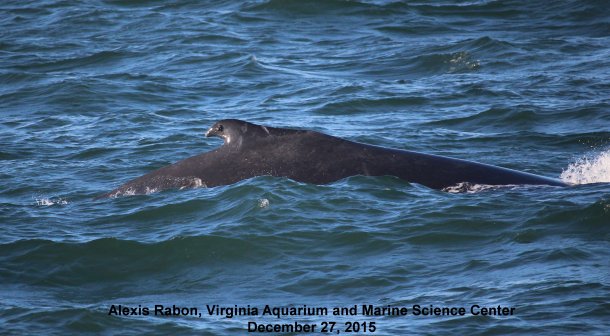 Photo of humpback whale with the SPOT-6 tracking tag attached to the dorsal fin.
On the following day, December 21, HDR's research team re-sighted both whales and were able to collect follow-up photos of the tagged whale which will assist in assessing the tag's attachment and any visible reactions to tagging. On December 27th, a week after the tag was put out, it was a beautiful day off Virginia Beach and hundreds of residents and tourists alike took to the waters in hopes of seeing some of the winter whale visitors. Whale watch boats were treated to many sightings of humpback whales, including our recently tagged individual! Rudee Flipper Tours and the Virginia Aquarium's whale watch vessels both provided photos of our tagged whale and no doubt, numerous excited guests collected thousands of images of the pair as well.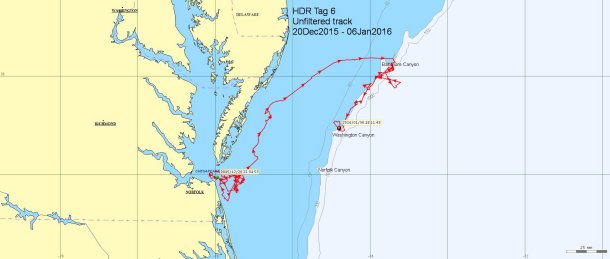 Map showing the travels of the tagged humpback whale over the course of 17 days.
We hoped we would locate the pair again, but information from the satellite-tagged individual showed that on December 28th the tagged whale began a journey north towards Baltimore Canyon, a productive offshore canyon 140 miles to the northeast of where we'd first seen the pair. As of January 6th we are still receiving information from this whale and it had traveled a total of 573 nautical miles since we initially deployed the tracking tag. The individual is currently located near the Washington Canyon, 83 miles northeast of Cape Henry. We wonder – is the pair still together and will they return to Virginia Beach this season?  Check back for additional updates……
For more information on the Mid-Atlantic humpback whale monitoring project, please visit the project profile on the U.S. Navy's Marine Species Monitoring webpage.