Underwater Detonation Monitoring at Silver Strand
Posted on July 23, 2014
The U.S. Navy monitors the effects of its activities on marine species, including those activities that generate sound in the water, such as underwater explosives testing and training. Marine mammal observers (MMOs) visually monitor specified mitigation zones before, during and after these training events, and confirm that no marine mammals or sea turtles are present in these zones. In addition, the Navy performs acoustic sound-source monitoring to characterize the source parameters of these explosive charges, and to measure site-specific sound propagation characteristics in order to estimate potential received noise levels for marine wildlife. 
In May 2014, Navy and contractor biologists, including Dr. Thomas Jefferson, Peter Dahl and others at the Applied Physics Laboratory at the University of Washington, performed biological and acoustic monitoring during two underwater explosive training events at the Silver Strand Training Complex (SSTC) at Naval Base Coronado in San Diego, CA.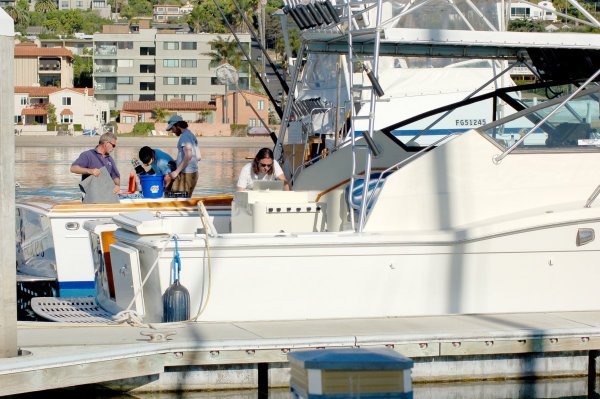 Visual and acoustic monitoring was performed from two small (<40') vessels, and noise levels of underwater detonation (UNDET) charges were measured at various ranges from the detonation location using in-water hydrophones, including a Vertical Line Array (VLA) deployed off one of the vessels. In addition, a directional wave buoy was deployed in order to evaluate the influence of wave action on sound propagation.
The monitoring team encountered reasonably calm seas due to the Santa Ana winds that week. Two gray whales and several groups of common dolphins were observed near Point Loma, close to Coronado Island, but did not come near the UNDET location off SSTC. Numerous California sea lions were observed, and one UNDET event was delayed by the presence of a sea lion in the mitigation zone prior to detonation. Operations resumed after a mandatory 30-minute wait period, after which the animal was confirmed to be at a safe distance from the charge location.
This project is a good example of the Navy's dedication to protecting marine species during training events, and commitment to fund independent research to estimate noise impacts on marine wildlife. Acoustic data from the event are still being analyzed.